Media inquiries?
Contact Pat Embry via email or at 615-321-4939 x114. Click here for FAQ's about The Big Payback. For all other inquiries, please email thebigpayback@cfmt.org.
---
WATCH THE BIG PAYBACK 101 WEBINAR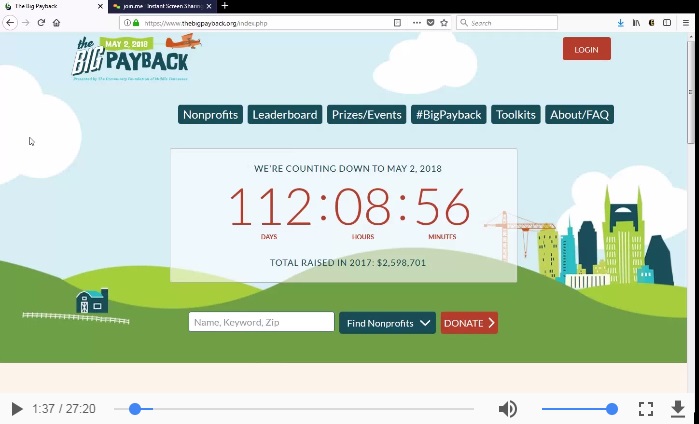 ---
TOOLS TO SUCCEED
As we draw closer to The Big Payback on May 2, 2018, the tools below will be available for both participating organizations and media partners.
The Big Payback General Information (PDF) - For media and participants.
Participating Organization List by County (PDF)
What is The Big Payback and How Does it Work? (Video)
The Big Payback Promo Videos (10 and 30 second spots)
Hourly Prize Structure (PDF)
SAMPLE Pop Up Prize Structure (PDF)
Individual Fundraising Campaigns / Peer-to-Peer Fundraising: How To (PDF)

FOR PARTICIPANTS
Preparation Calendar (PDF) - Don't miss out on these important dates.
Strategy Checklist & Matching Funds (PDF)
Engage Your Donors Toolkit (PDF)
Motivate Your Board Toolkit (PDF)
Sample Website Language (PDF) - Update your website to help promote your involvement in The Big Payback.
Sample Newsletter Messaging (Word Doc) - Send Save-the-Date and Call-To-Action Emails to your donor-base.
Press Release Draft (Word Doc) - Helpful press release ready for your information to be plugged in.
Social Media Tips (PDF) - An online marketing day certainly lends itself to social media marketing.
Printable Flyer (PDF)
Customizable Flyer (PDF)
Customizable Flyer (JPG)
WEB BANNERS
Skyscraper (JPG) 160x600px
Leaderboard (JPG) 728x90px
Mobile (JPG) 320x50px
Web Ad (JPG) 300x250px
Web Page (JPG) 600x250px

THE BIG PAYBACK LOGO
Web (JPG)
Vector (EPS)
Print (PDF)
LOGOS FOR PROMO ITEMS
Balloon (EPS)
T-Shirt Full Color (EPS)
T-Shirt 2-Color (EPS)

THE COMMUNITY FOUNDATION LOGO
Web (JPG)
Vector (EPS)

SOCIAL MEDIA GRAPHICS
Social Newsfeed (JPG)
Facebook Cover Photo (JPG)
Twitter Cover Photo (JPG)
Instagram Photo (JPG)
---
Email updates fromThe Big Payback 2017 with helpful tips inside each one!
February 22: Are you registered ... win $1,000! Plus, more trainings included registration webinar link, new trainings for organizations, and the $1,000 Twitter contest.
March 8: Make this giving day work for you. And grant prizes included ten ways to make The Big Payback work for your organizations plus opportunities and deadlines.
March 15: Inspire donors with video included tips on how to create a video studio for FREE to help with your marketing materials for The Big Payback.
March 22: Today is the LAST day to register for The Big Payback included a link to the registration webinar, list of participating organizations as of March 21 at 5 p.m., and a link to register.
April 5: SPICE UP your profile and many opportunities to succeed included screenshots to help fully enhance your profile on The Big Payback website and opportunities including NewsChannel 5 video contest, our GameDay Throwdown, a helpful video to share with donors, board members, and staff, and an opportunity to receive promotional yard signs.
April 12: Win $1,000 PLUS additional opportunities to help create your #BigPayback success story included opportunities including the $1,000 Comment Contest, NewsChannel 5 video contest, our GameDay Throwdown, and an opportunity to receive promotional yard signs.
April 19: Hourly prizes have been announced and contests are closing!
April 26: Last minute housekeeping for all The Big Payback partipants.