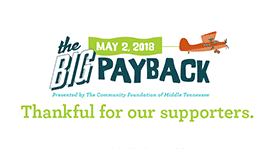 We want this to be a remarkable day for The Big Payback's participants, as well as the Middle Tennessee community. In addition to donations raised, we include many ways for nonprofits to win cash prizes.
How It Works.
Organizational Breakdown
Organizations are categorized into three groups - Small, Medium and Large - based on the organization's Projected Expenses during the current fiscal year. A Small Organization has projected expenses less than $250,000; a Medium Organization has projected expenses between $250,000 - $999,999; and a Large Organization has projected expenses of $1,000,000 or more.
Prize Structure
We give away Grand Prizes to organizations - Small, Medium and Large - with the highest number of unique donors and which raise the most money. In addition, cash awards are given based on donations during specific time increments as well as contests announced throughout the promotion of The Big Payback.
---