Bonaparte's Retreat Dog Rescue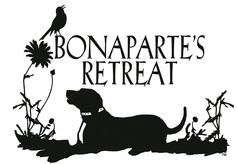 Since 2004, Bonaparte's Retreat has been saving Nashville's shelter dogs. Founded by Grammy-winning singer/songwriter Emmylou Harris, we are named in memory of Emmylou's own shelter dog, Bonaparte, who traveled on the road with her for ten years. A small, foster-based 501(c)3 nonprofit dog rescue organization, our focus is on rescuing the shelter dogs often overlooked or deemed unadoptable-senior dogs, large dogs, special needs dogs, or dogs in need of imminent medical care or surgery. Our mission is to nurture these wonderful animals back to health, prevent them from being euthanized, and to place them into loving & forever homes.

Our Big Payback fundraising goal for 2019 is $10,000. Please donate any amount because your gift makes possible all we do to save shelter dogs.



Show All