Legal Aid Society of Middle Tennessee and the Cumberlands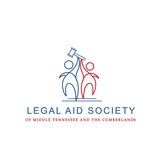 To advance, defend, and enforce the legal rights of low-income and vulnerable people in order to secure for them the basic necessities of life.

With 32 staff attorneys and 60 other non-attorney staff, we provide services to people with low incomes through offices in Clarksville, Columbia, Cookeville, Gallatin, Murfreesboro, Nashville, Oak Ridge and Tullahoma. We also utilize the services of over 600 pro bono attorneys across 48 counties annually through our Volunteer Lawyers Program.
Show All